What's the one thing - people ask me quite often - to improve the chances of today being a MORE productive day?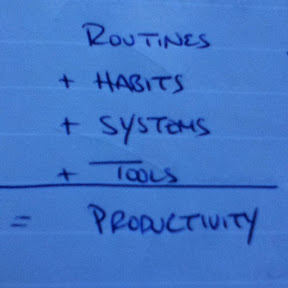 All right... Here's one diagram that shows up quite often in my own note book. In fact, it first showed up while facilitating a leadership workshop for the US Navy on location at Seal Beach, CA.

Take a look and see where you could experiment with a new idea this week.

Routines: What do you do, without even knowing you do it? From the moment you wake up, you're on track to do what is "normal."

Habits: More on the mental side of things, what have you practiced over and over again so that "that" is how you are?

Systems: I think of the applications I use, the services I count on, the "apps" that make it possible to do all of my work.

Tools: iPod, iPad, BlackBerry, computers, all those "things" that make it possible to get things done.

Ok, now that you've got 4 things to think about, how productive could you be?