After another mentoring session (I am SO thankful for the time she gives me) with Frances Hesselbein, I took some time to think and read and write an write some more. I read a couple of articles from Leader to Leader, wrote a thank you card, and drafted some more ideas in my journal.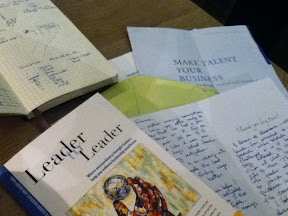 How do you find new ideas? And, are they truly "first-thought" items? This has me waking up all all hours of the day, for if we have a new idea that could change things, we could, well change things.
I'm here in Zurich, on Saturday, and there was an "Occupy" event happening in a main square of town. As I walked by the people there, I asked myself, "What's the new idea they are bringing to the public domain."
Over the next 96 hours, I will be re-editing (for the last time!) the book that is coming out in January. The purpose, I'm realizing, of this project is bigger than I originally thought. It's designed to help you get new ideas. I hope it works.